Today, as part of the release of Wealthbox 3, we're happy to announce Wealthbox Mail, a beautifully designed email application in Wealthbox that syncs with your email account and boosts the power of Wealthbox CRM immensely. Available in the Pro and Premier plans, Wealthbox Mail provides financial advisors with an all-in-one-place platform to manage and grow their practices with ease.
"It's like CRM & Email had a beautiful baby!"
Wealthbox Mail is a complete email experience for financial advisors. Purpose-built for the way advisors work, it combines client relationship management with a familiar and powerful inbox with special features. It's kinda like CRM & Email had a beautiful baby!
What's in Wealthbox Mail?
Two-Way Email Sync: With one click you can connect Wealthbox with your email address from your email service provider to integrate your inbox, sent mail, archived mail, and trash folders. They're all synced – instantly!
Send & Receive Email: Enjoy a modern email interface in Wealthbox to compose, send, receive, and manage your emails – all in one place and synced with your current email system provider.
Email Layout Options: You can set up a default view for easy viewing of emails in Wealthbox, such as Preview Right, Preview Bottom, or No Preview.
Email-to-CRM actions: Upon opening a new email in Wealthbox, you can instantly create a task, schedule an event, start a workflow, create an opportunity or set a reminder for that email that will then link it to related CRM components in Wealthbox.
Reminders: If a reply to an email isn't received within a specified time, you can receive in-app notifications to take action.
Formatting: Enjoy the new rich text editor now available in the publisher of Wealthbox, including in Wealthbox Mail for composing emails.
Auto-Fill of contacts in composition window: You can type in the name of a contact and the address fields will automatically begin to populate.
Changeable "From" Name that is displayed to recipients: You can change the "from" name that is displayed to your email recipients.
Customizable Signatures: You can create default, customizable, and multiple signatures and add images to them as well.
Email Templates & Themes: Create personalized email templates for routine correspondence with your contacts using mail merge tags. You can also use a theme to identify a specific header or footer within a template.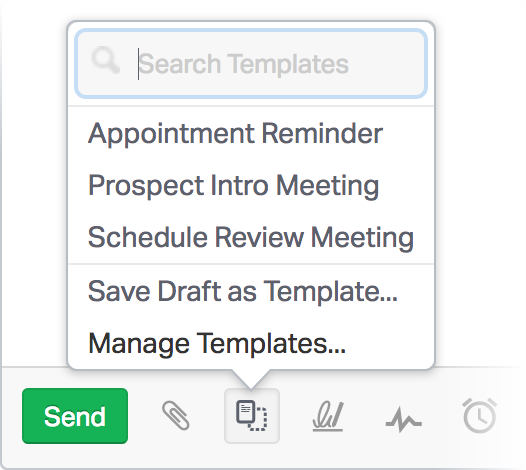 Bulk Action Send: You can select multiple contacts (and group them by mail merge tags) and send an email template with the recipient field of "To", "Cc", or "Bcc" in order to email multiple contacts at once.
Contact Record page merging: All inbound/outbound email correspondence with your contacts is automatically recorded in "Email" tab on a given Contact Record page. No more manual Bcc forwarding!
Individual Email and Shared Inbox Accounts: Your advisor teams can add a shared email address, such as Contact@CompanyName.com, for increased workspace collaboration.
Privacy Permissions: You can set privacy permission settings for email addresses that allow or prevent access and viewing of email correspondence connected to Wealthbox Mail, as well as individual emails associated with certain contacts.
Contact Status Indicator: Existing contacts in Wealthbox appear highlighted in blue within email, so you can know if a contact is in Wealthbox and if not, it's one click to add a new name.
Create New / Add to a Contact: New contacts or new contact details from emails received in Wealthbox can be added with one click. Simple!
Archive an email right from the viewing pane with one click, or you can delete the email.
Attachments: Upload files, photos and personalize your email with pictures and GIFS. Insert links to your email and templates as well.
Open Rate and Click-Through Tracking: For sent email, the "pulse" icon indicates whether or not and when the email has been opened and/or if any hyperlinks within the email have been clicked on the. This feature can be turned on or off on a per message basis.
One Click Navigation: You can click can navigate directly to a contact's record page from their email address.
Email Slide-Out View from the right-hand side while on a contact record page: Emails slide out from the right-hand side while on a contact record page for easy viewing.
Link-an-Email to a task, event, workflow or opportunity, so you can see emails in which you or another user in your Wealthbox workspace link to.
Upcoming Features in Wealthbox Mail
Undo Send button
Send Later functionality
Email pinning
Drip / Sequencing / Automations
Advisors: You've Got Mail!
Try Wealthbox Mail today. Existing account owners: Click here to upgrade! Not a Wealthbox customer? Get a free 14-day trial of the Wealthbox Pro plan!