Together apart, and highly productive – at home
The modern product design of Wealthbox as a business productivity application for financial advisors takes inspiration from social networking apps for consumers. Similar to keeping a group of friends together, Wealthbox allows advisor teams in a private CRM workspace to communicate and collaborate around business activity at the office – and at home.
In this blog post, we highlight 4 features – the activity stream, CRM-integrated email, automated workflows, and the companion mobile app in Wealthbox that make it uniquely suited for advisors to communicate and collaborate as a team on a remote basis.
The Activity Stream
On the dashboard of Wealthbox is the "publisher" and "activity stream" that takes its design cue from social networking apps. This familiar, consumerized pattern in the interface is one of the reasons advisors have an "aha moment" in intuitively and instantly understanding how to use Wealthbox from the start. Communication and collaboration around CRM activity – from anywhere – is what the activity stream allows.
Post a status update in the publisher
Keep your staff in the loop, wherever they are. It's like a private social network for your firm.
Comment, like, and use emojis in the activity stream
Wealthbox humanizes the CRM experience. Collaborate with expressive color in your private communication with coworkers by using emojis.
@Mention a client name to add a note
Save time working from anywhere with @-mentioning. Fewer clicks and no scrolling to add a note to a client record for coworkers to see is super speedy.
Quickly add a new Contact, Task, Event, or Opportunity
Common actions, done with speed and simplicity – without leaving the dashboard.
Send email notifications to coworkers
Keep your remote team updated on important CRM entries in Wealthbox.
Determine who can see what
Permissions that are customizable, simple, intuitive.
Wealthbox Mail
Wealthbox Mail is a fusion of CRM and email together inside of Wealthbox. It augments the internal collaboration features of the activity stream with client email communication in Wealthbox.
Reminders
If a reply to an email isn't received within a specified time, you can receive in-app notifications to take action.
Templates
With Wealthbox Mail, advisors can create personalized email templates for routine correspondence with their contacts using mail merge tags. Users can also use a theme to identify a specific header or footer within a template.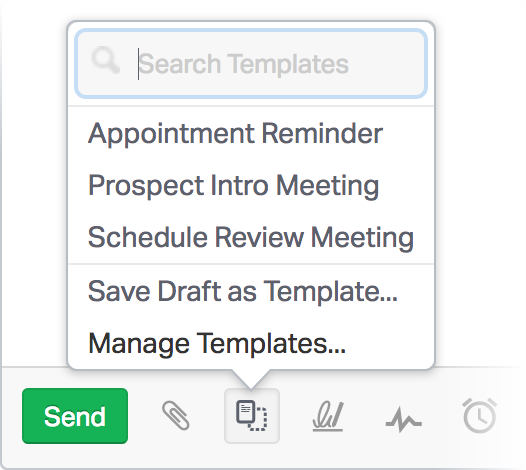 Quick email-to-CRM actions
Upon opening a new email in Wealthbox, advisors can instantly create a task, schedule an event, start a workflow, create an opportunity or set a reminder for that email that will then link it to related CRM components in Wealthbox. These actions are also posted for coworkers to see in the activity stream.
Create New / Add to a Contact
New contacts or new contact details from emails received in Wealthbox can be added with one click. Simple!
Automated Workflows
Workflows in Wealthbox are business process documentation that helps advisor teams automate their practices, whether at the office, home, or the beach!
Workflow templates
Advisors can create a template that matches a process in their advisory practice and start that workflow to deliver a consistent experience to clients. Because everything is documented, nothing falls through the cracks, even when working remotely.
Workflow scheduling
Advisors can set a future start date, and click the "Schedule Workflow" button. The projected end date will recalculate in real-time when you update the start date, complete steps, or modify due dates for steps in the Workflow.
Workflow outcomes
Workflow outcomes allow advisor teams to add conditional logic to their sequential workflows. With outcomes, users can build scenarios into their workflows so they have an answer for what do we do when this or that happens.
The Wealthbox Mobile App
Thinking of getting off the couch and taking a walk in your neighborhood? The Wealthbox companion mobile app provides you with all the same features as the desktop version when you're on-the-go. Be anywhere.
Working from home in Wealthbox
Stay tuned for some upcoming Wealthbox webinars where we'll highlight various functions of Wealthbox to get work done on a remote basis. Social distancing meets social CRM.
Not a Wealthbox user? Sign up today for a free trial from the comfort of your couch.